Channel Maintenance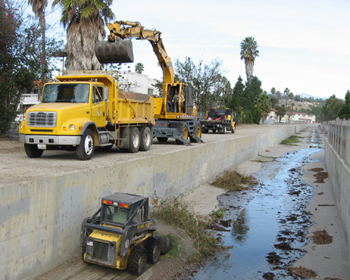 Operations and Maintenance field crews regularly inspect and clear obstructions from the over 200 miles of improved and unimproved channels within the District's jurisdiction. Each year, thousands of cubic yards of silt and debris are removed from waterways.
District staff must keep debris from clogging flood control channels and reservoirs. Silt is an ongoing by-product of nature. During heavy storms, eroded soils wash into fast-moving creeks. The silt is carried downstream where it settles out in low-lying channels.
Channel Cleanouts are critical to keeping stormwater flowing unimpeded. Water pollution degrades surface waters making them unsafe for drinking, fishing, swimming, and other activities. As authorized by the Clean Water Act, the National Pollutant Discharge Elimination System (NPDES) permit program controls water pollution by regulating point sources (pipes or man-made ditches) that discharge pollutants into waters of the United States.
2014 NPDES Channel Cleanout Schedules by Supervisoral District