Water Resources Division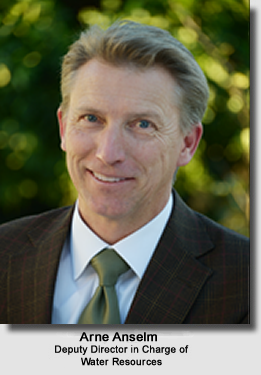 Congratulations to Arne Anselm, who has now (September 2016) been appointed to Direct the Water Resources Division of our Watershed Protection District!
The Water Resources Division is divided into three sections:
Stormwater Resources
In the unincorporated Ventura County, the stormwater management program is administered by the County Stormwater Program. The Program implements requirements and ensures compliance with the Ventura Municipal Stormwater Permit Order No. R4-2010-0108 within the unincorporated area of Ventura County and County facilities. Within the County unincorporated area, The Program addresses such activities as, development project conditioning, construction site inspections, illicit discharge investigation and enforcement, business inspection, public outreach, and County employee training. In addition, to reduce pollutants from the urbanized unincorporated areas this section designs, seeks funding and partnerships, and oversees the construction and maintenance of stormwater BMPs.
For all your stormwater permitting needs, please visit the County's One-Stop Permitting website at http://onestop.vcpublicworks.org/stormwater-welcome.
Click here to report a suspicious discharge or illegal dumping.
Stormwater Resources
Acknowledging the value of stormwater as resource the Stormwater Resources Section provides technical and organizational support countywide to efforts capturing stormwater and improving its quality. Responsible for the Principal Permittee requirements of the Ventura Countywide Municipal Separate Storm Sewer System National Pollutant Discharge Elimination Program (NPDES) Permit (Permit), this section works closely with all ten cities of the county leading the Ventura Countywide Stormwater Quality Management Program (Program). This includes the collection and analysis of stormwater, urban runoff, and receiving water samples across Ventura County, reporting, programs to change public behavior and identifying and implementing special studies to increase the understanding of stormwater as a resource in Ventura County. http://www.vcstormwater.org/ http://www.cleanwatershed.org/
The Groundwater Section has been providing groundwater information (water levels and water quality) along with well construction data to the public for more than 40 years, and will continue to improve such service as much as possible. In addition, we conduct data gathering of both groundwater quality and groundwater levels by sampling and measuring existing wells on a routine basis. Such activities help us understand and track vital water resources to address any potential concerns before they become problems. New and existing information is recorded, coordinated, and included in topical studies.
The Ventura County Groundwater Section addresses all water supply sources including groundwater, surface flows, imported and reclaimed water, as well as alternative resources such as conjunctive use and desalination. Water management programs include drought planning, governmental quality compliance, and several water conservation programs.
Fox Canyon - http://www.fcgma.org/about-fcgma
The Fox Canyon Groundwater Management Agency (FCGMA) manages and protects both confined and unconfined aquifers within several groundwater basins underlying the southern portion of Ventura County. The FCGMA is an independent special district, separate from the County of Ventura or any city government. It was created by the California Legislature in 1983 to oversee Ventura County's vital groundwater resources. All lands lying above the deep Fox Canyon aquifer account for more than half of the water needs for 0.7 million residents in the cities of Ventura, Oxnard, Port Hueneme, Camarillo, and Moorpark, plus the unincorporated communities of Saticoy, El Rio, Somis, Moorpark Home Acres, Nyeland Acres, Leisure Village, Point Mugu and Montalvo.