Water Quality, Conservation, & Rebates
Water Quality
Water Conservation
Rebates
---
WATER QUALITY - CONSUMER CONFIDENCE REPORTS (CCRs)
---
From the beginning, our goal has been to produce the highest quality drinking water for every customer. Each year, state and federal regulations require that our water utilities provide detailed water quality information to our customers. We too believe it is important to inform you of the quality of water you receive.
Our 2016 Water Quality Reports can be viewed and printed here using Adobe Acrobat Reader. If you have any questions, please call our Laboratory Manager, Al Sexton, at (805) 378-3022.
---
WHAT SPECIAL PRECAUTIONS SHOULD FISH OWNERS TAKE?
---

Chloramines must be removed from any water to be used for fish tanks or ponds. Chloramines are toxic to saltwater and freshwater fish, reptiles that live in water, turtles and amphibians, and must be removed. This includes lobster tanks at grocery stores and restaurants as well as fish containers at bait shops.
You may not have had to remove chlorine from your aquarium water because it dissipates (evaporates) rapidly on its own. This is not the case with chloramines and specific steps must be taken for their removal.
Chloramines can be removed from the water by using a water conditioner specifically designed to remove chloramines or by using a granular activated carbon filter. Your pet supplier should be able to provide any further guidance you may need on these products.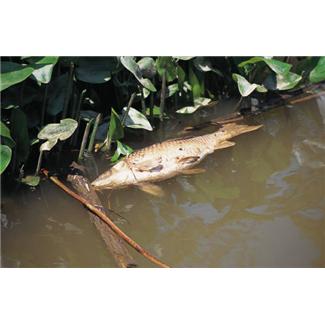 Ammonia can be toxic to fish. Although all fish produce some ammonia as a natural by-product, ammonia is also released when chloramines are chemically removed. Some ammonia levels may be tolerable in individual tanks or ponds for short periods of time however, commercial products are available at pet supply stores to remove excess ammonia. Biological filters, natural zeolites, and pH control methods are also effective in reducing the toxic effects of ammonia.

---
IS PRESCRIPTION DRUG DISPOSAL EFFECTING OUR WATERWAYS?
---
In the past, consumers were told to dispose of their unwanted or expired medications by flushing them down the toilet. Recent studies have shown that many drugs pass largely untreated through wastewater treatment plants. These untreated medications affect fish and other aquatic wildlife. Disposing of unused medications by putting them in the trash is also not recommended as once in the landfills they can leak and potentially affect local groundwater.


The following are some of the ways to safely dispose of your unused medications:
Contact your local

Sheriff or Police Station

to see if they have a drug disposal bin in the station lobby.
The DEA schedules National Prescription Drug Take-Back days. For information on their schedule please see the following link:

DEA National Drug Take-Back Program

Check with your local city or county to ask about

disposal programs

.
Check with your local

pharmacist to see if they will take back medications.

According to the Harvard Health Publication, Prescription Drug Disposal "If you need to put your medications in the trash, keep them in their original childproof and water tight containers. Leave the label on, but scratch out your name to protect privacy. Add some water to pills, and put some flour in liquids. Conceal the vials by putting them in empty margarine tubs or paper bags before throwing them out".

---
VENTURA COUNTY WATERWORKS DISTRICTS PERMANENT RULES AND REGULATIONS
---
The drought emergency may be over but these prohibitions will continue:
Irrigation with potable water of ornamental turn on public street medians.

Irrigation with potable water outside newly-constructed homes and buildings not in accordance with emergency regulations or other requirements established in the California Building Standards Code.

Using potable water to wash sidewalks and driveways.

Allowing runoff when irrigating with potable water.

Using hoses with no shutoff nozzle to wash cars.

Using potable water in decorative water features that do not recirculate the water.

Irrigating outdoors during and within 48 hours following measurable rainfall.
Additionally:
Regulation retains penalties for homeowners' associations or community service organizations impeding homeowners from reducing or eliminating the watering of vegetation of lawns.

Maintains reporting requirements and enforcement tools to ensure compliance with the provisions or the regulation.
For all regions it is necessary to promote appropriate conservation practices and work towards Making Conservation a California Way of Life.
---
WAYS YOU CAN CONSERVE WATER
---
WATER CONSERVATION TIPS
Water conservation measures are an important first step in protecting our water supply. By implementing water conservation practices our customers can not only save the supply of our source water, but can also save money by reducing your water bills. Here are a few suggestions:
Conservation measures you can use inside your home include:

Limit showers to 5 minutes.

Fix leaking faucets, pipes, toilets, etc.

Install High Efficiency Toilet (HET). If you cannot install a new toilet, put in a water displacement device, such as a ½ gallon plastic milk jug filled with water.

Use energy efficient washers and dishwashers.

Wash only full loads of laundry

.

Run the dishwasher only when full.

Do not use the toilet for trash disposal.

Install a low-flow showerhead.

Turn off the water while shaving, washing, and brushing your teeth.

Soak dishes before washing them.

You can conserve outdoors as well:
Water the lawn and garden in the early morning or evening.

Install drip irrigation.

Use mulch around plants and shrubs.

Cultivate plants that thrive in semi-arid climates.

Repair leaks in faucets and hoses.

Use water-saving nozzles.

Use a broom, not the hose to clean patios, driveways, and sidewalks.

Use water from a bucket to wash your car, and save the hose for rinsing.
---
WHY SHOULD I CARE ABOUT MY OUTDOOR WATER USE?
---
Outdoor water use accounts for up to 70% of total water use for many California homes.

Excess watering decays roots and can harm plants.

Over-watering leads to increases in maintenance and overall costs

Runoff onto the sidewalk and street wastes water and pollutes.
---
DO YOU HAVE A WATER LEAK IN YOUR HOME?
---
A water leak can mean losing thousands of gallons of water per year. It's a good idea to periodically check for leaks in your water system, which can be detected by your water meter.
The water meter is usually located in a meter box, a small concrete vault near the street. To check for a leak in your system, turn off all faucets and water appliances in and around the home for the duration of the leak test. Read the meter, wait 15 minutes, and check the meter again. If the reading has changed or if the usage indicator (usually a small triangle) on the register has moved, you may have a leak. Repair all leaks as soon as they are detected.
---
INFORMATION FOR SCHOOLS AND STUDENTS
---
Water conservation information is available for elementary school age students by calling our office at (805) 378-3012 during regular business hours. Our staff is available to conduct classroom presentations, which are informative and enjoyable for students in grades K through 6.
---
LARGE LANDSCAPE WATER AUDITS
---
A limited number of water audits are available at no cost to large landscape customers, such as homeowner associations with large landscaped common areas. Our consultant will recommend ways to improve your irrigation, conserve water, and save money on your water bills. Call us for additional information.
---
REBATE PROGRAMS

---
Note: These rebates are available for customers of Ventura County Waterworks District (VCWWD) Nos. 1, 17, 19, and 38 (District) only. If you are not a District customer, please visit www.socalwatersmart.com for further information.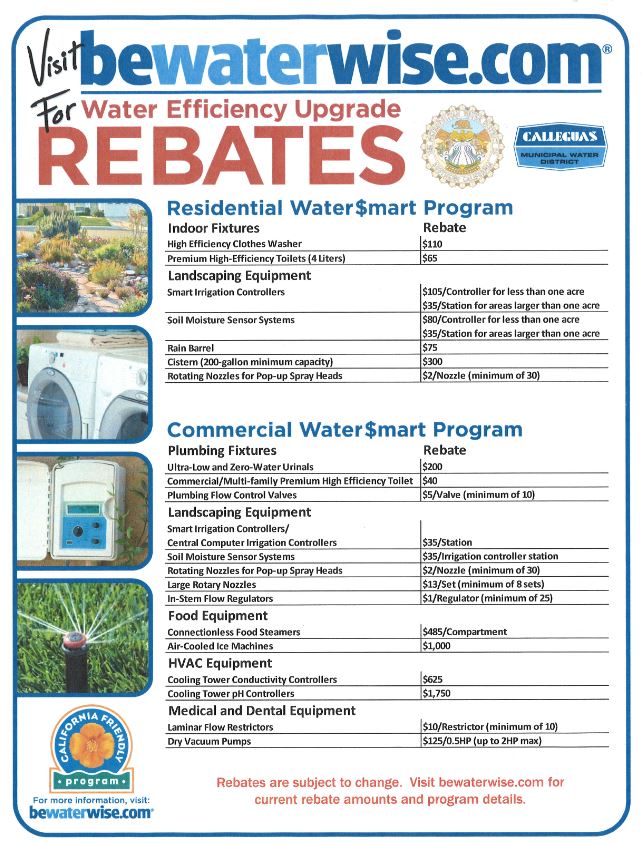 VCWWD Nos. 1, 17, 19, and 38 are committed to helping our customers find ways to conserve water and save money. In conjunction with Calleguas Municipal Water District and Metropolitan Water District of Southern California (MWD), we offer our customers residential rebates. These rebates are available through the SoCal WaterSmart Program. Customers will be able to qualify for a variety of rebates. To see the list of qualifying products and additional information on available rebates, please visit their website at www.socalwatersmart.com.
For their Turf Removal Program, funding is limited, and submitting an application does not guarantee a rebate. Rebates are available on a first-come first-served basis until funding is exhausted. Projects that have been started or already completed prior to rebate reservation approval are NOT eligible. Prior to application and obtaining your reservation number, please ensure that you review the Terms & Conditions of the program at www.socalwatersmart.com. Synthetic turf is not eligible in this rebate program. For design ideas, plant selection, and irrigation information, please visit www.socalwatersmart.com for ideas local to Ventura County, or visit the www.bewaterwise.com garden spot page.