Waste Management
Integrated Waste Management Division
Organizational Chart
Division Directory
The

Integrated Waste Management Division (IWMD) r

educes waste, prevents pollution, and promotes the sustainable manage

ment of materials in partnership with the community. The IWMD is responsible for the

County's compliance with the California Integrated Waste Management Act, including recycling and reuse programs to reduce waste going to landfills and to enhance environmental quality.
The IWMD administers 4 residential and 14 commercial solid waste collection contracts serving the unincorporated areas of Ventura County. For information on residential solid waste collection companies, including service areas and a service area map, click here. Commercial solid waste collection companies, including recycling and waste disposal facilities, can be found here.
Additionally, the IWMD administers a Household Hazardous Waste (HHW) collection program including the operation of a Permanent HHW collection facility called the Pollution Prevention Center, which serves unincorporated area residents and residents from the cities of Ojai, Santa Paula, and Fillmore. This program is free to residents of these communities. For information on the County's program as well as other local city HHW programs, click here.
If a business qualifies as a Conditionally Exempt Small Quantity Generator (CESQG), the business may properly dispose of hazardous waste at a local HHW facility which significantly reduces disposal cost versus using a private contractor to manage the hazardous waste. For information on the County's CESQG Program, click here.
Lastly, the IWMD is responsible for implementing the Disaster Debris Management Plan (DDMP) following a disaster. The DDMP is implemented during the clean up or "recovery phase" of a disaster and involves working closely with the Ventura County Sheriff's Office of Emergency Services and solid waste collectors, organizing clean up crews, tracking debris tonnage and filing any required reports with federal, state, and local agencies.
Office Location:


Ventura County Government Center
Hall of Administration
800 South Victoria Avenue
Ventura, CA 93009-1650
Main Line: 805/658-4321
Fax: 805/658-4324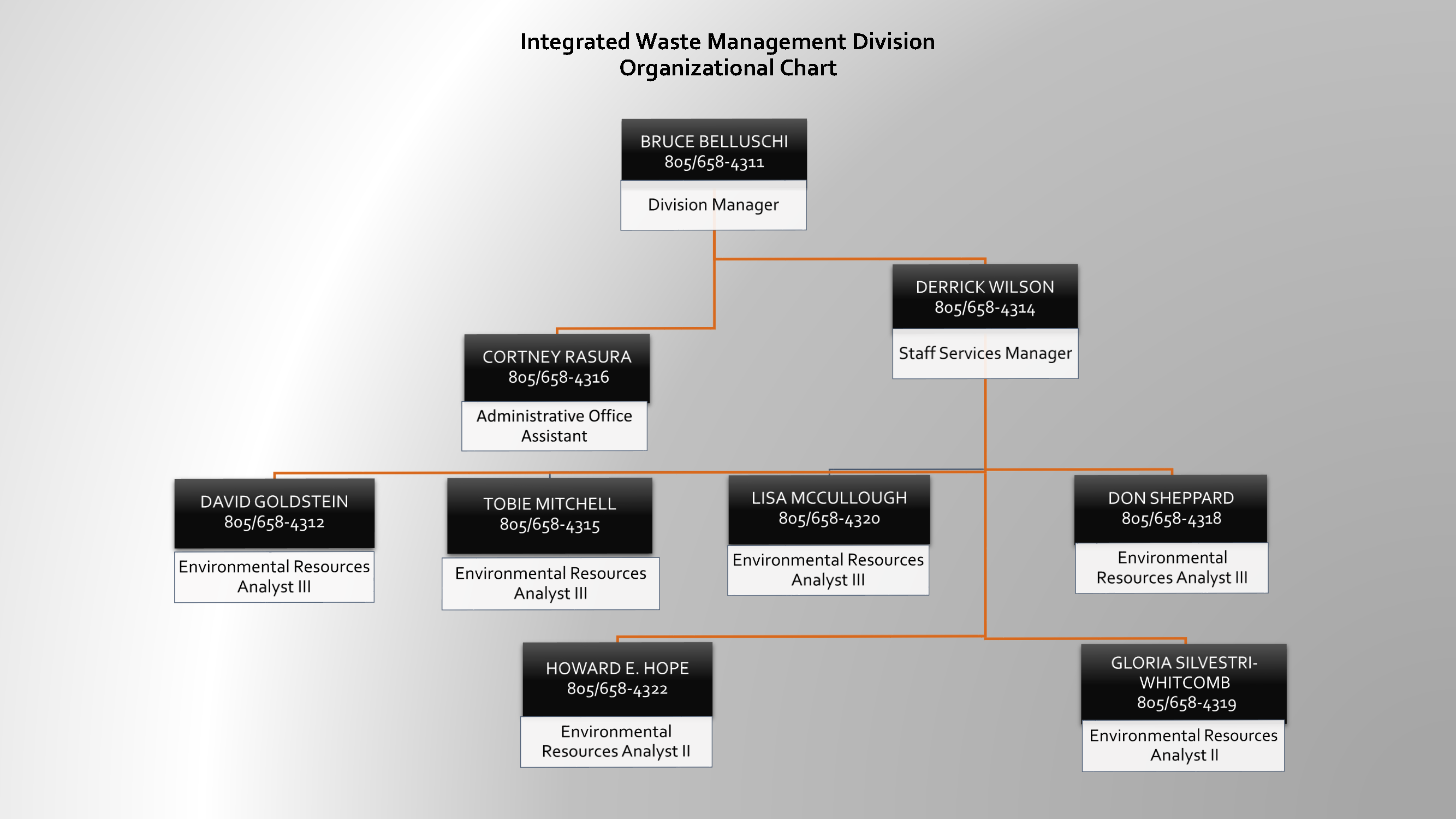 Integrated Waste Management Division Directory

Main Office Line

658-4321

Division Manager - Bruce Belluschi
658-4311
Staff Services Manager - Derrick Wilson
658-4314
Recycling Market Development Zone Administrator / Eye on the Environment Articles - David Goldstein
658-4312
Residential & Commercial Solid Waste Collection Contracts / Senior - Low Income Discount Program - Lisa McCullough
658-4320
Green Waste Fee Exemption Program / Solid Waste Tonnage Tracking & Reporting - Gloria Silvestri-Whitcomb
658-4319
Land Use Reviews / Community Service Districts Liaison / Community Beautification Events - Tobie Mitchell
658-4315
Construction & Demolition Debris Management Program / Electronic Waste Recycling Program / Community Beautification Events - Howard E. Hope
658-4322
Household Hazardous Waste (HHW) / Used Oil Payment Program / GIS Geocoding / Web Content - Don Sheppard
658-4318
Administrative Office Assistant / HHW Appointment Scheduling - Cortney Rasura
658-4316
Household Hazardous Waste Appointment Line
658-4323