Open/Close Account
To Open an Account (Establish Service)
---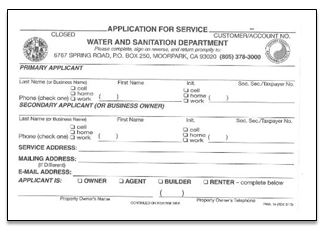 Please call (805) 378-3000 or stop by the business office located at 6767 Spring Road, Moorpark, CA 93021-9758 during regular business hours, Monday through Friday, 8:00 a.m. to 5:00 p.m. and provide the following information:


Service address

Date service is to begin

Name(s) of the person(s) responsible for the account

Your mailing address (if different than the service address)

Your telephone number(s)

Your social security number.

If you are a tenant, please provide the name of the property owner and his/her telephone number.
You will be asked to complete a brief application card. A deposit may be required for customers without established credit from a previous Utility Company.
---
To Close an Account (Terminate Service)
---

Please call (805) 378-3000 or stop by the business office located at 6767 Spring Road, Moorpark, CA 93021-9758 during regular business hours, Monday through Friday, 8:00 a.m. to 5:00 p.m. and provide the following information at least one working day before you want the service discontinued:


Your account number

Service address

Date service is to terminate

Your name – the name on the account

The address where closing bills are to be mailed (a forwarding address)

Your new (or daytime) telephone number