Graffiti Abatement Program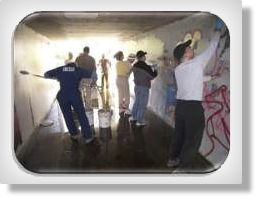 The Watershed Protection District's (District) Graffiti Abatement Program works with concerned neighbors to locate and remove graffiti from property owned by the District. We work toward the goal by:
Forming neighborhood graffiti patrols;
Working with the respective City's law enforcement; and
Recruiting and training volunteers to assist with graffiti reporting/removal in their own neighborhoods.
Prompt and persistent removal of graffiti has been shown to be effective in discouraging repeat vandalism. The District's Graffiti Abatement Coordinator works with non-profit organizations and neighbors to address graffiti throughout the County. If you would like to become a volunteer please complete the volunteer application and volunteer agreements and mail or fax them to the Graffiti Abatement Coordinator at the address and /or fax number provided on the form. In return you will receive information about graffiti abatement training dates and how the program works. The Graffiti Abatement Coordinator can be reached at (805) 672-2101.
Taking Back Our Community
The Boy Scouts and the Watershed Protection District have developed a graffiti abatement program targeting county-owned facilities within the City of Moorpark. The "Take Back the Community" program has successfully held volunteer graffiti clean up events with as many as 21 youth participating from Troops 605, 651 and Cub Scout Pack 3651. The program is an example of a highly successful model for volunteer-oriented graffiti abatement.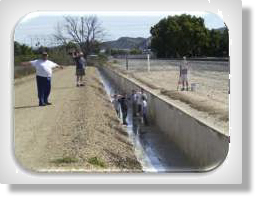 Adopt-a-Channel
Two non-profit organizations have chosen to express their pride in their neighborhoods by painting over graffiti in flood control channels and dam and debris basins. Groups that adopt District facilities are responsible for keeping their areas free of graffiti. Volunteers are trained by the County of Ventura Public Works Agency Health and Safety Officer on the proper methods for removing graffiti from walls and other structures.
The District provides volunteers with the supplies necessary to remove graffiti from District facilities. Designated group members can pick up paint, rollers, brushes and other supplies from the District's Operations and Maintenance Yard.
The volunteers are responsible for frequently checking their adopted facilities. Any graffiti spotted within their areas should be removed in a timely fashion. In addition, the District's personnel may contact groups to request the removal of graffiti reported to the District in their areas.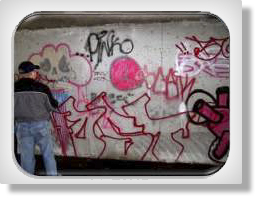 The Thousand Oaks Kiwanis Club has adopted several facilities and three dams in the City of Thousand Oaks.
Links