County Surveyor - Research Land Records Online
You can search for, view and download land survey records using County View, Ventura County's web-based Geographic Information System (GIS) application provided by the County's GIS Division.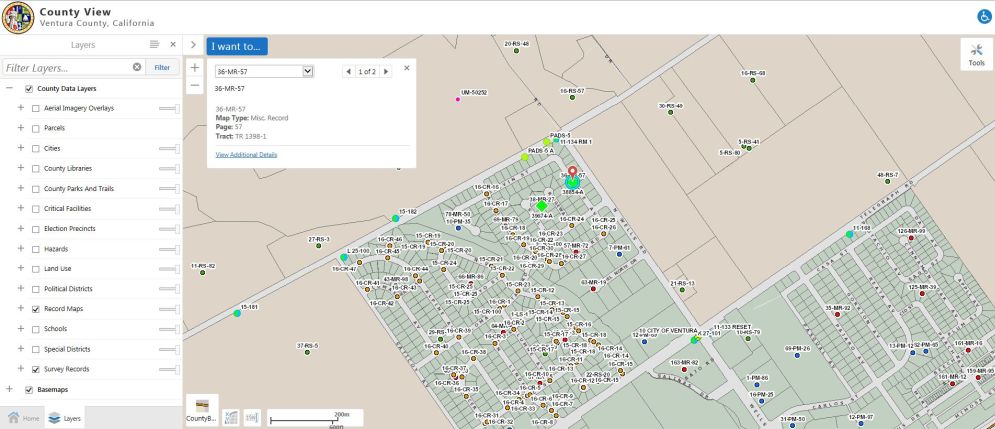 An older version of County View (Adobe Flash based) is available here. It is not compatible with most tablets or smartphones.
The following land survey records are available for research and download through County View:
Miscellaneous Records – MR (including Tract Maps)
Parcel Maps – PM
Records of Survey – RS
Corner Records – CR
Centerline Tie Sheets (NEW!)
Benchmarks
Unrecorded Maps – UM
General instructions for using County View to research land survey records can be viewed and downloaded here.

The County Surveyor's Office intends to make more land survey records available through County View in the future, but has no specific time frame for additions.
If you should find errors related to land survey record locations or have difficulties viewing or downloading records please feel free to contact us (countysurveyor@ventura.org).
If you have other questions and/or technical issues with County View unrelated to land survey records please contact Ventura County's Information Technology Services, GIS Division (GISHELP@ventura.org). You can also visit the GIS Division's website here.
Other Records Available:

Ventura County Field Book Index (Alphabetized PDFs) (Updated 8/18/2016)