Construction & Demolition Debris Management
C & D General Information
C & D Forms
Deconstruction - Salvage - Reuse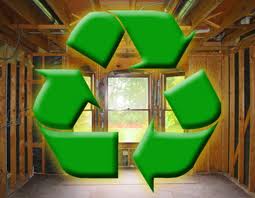 Construction & Demolition Debris Reuse & Recycling Program
What is the Construction & Demolition Debris Reuse & Recycling Program?
State law requires the County to divert landfill-bound solid waste material through the use of waste prevention, reuse and recycling. In compliance with state law, Ventura County Ordinance 4421 requires permit applicants working on construction and demolition (C&D) projects within the unincorporated areas of the County to practice waste prevention: reuse, recycle, or salvage; and, least preferred, landfilling solid wastes. For a printable, color brochure containing all information below click here.
Thresholds for Reporting
The thresholds for planning and reporting project waste diversion are:
Residential additions or remodels, regardless of gross floor area or valuation;


Commercial (non-residential) or industrial building additions or alterations of 1,000 square feet or more of gross floor area or $200,000 or more in estimated value;

Demolition of any structure requiring a building permit, regardless of cost or value;


All new structures, regardless of gross floor area or valuation;

Any grading work requiring a permit, regardless of cost, from which inert material will be removed from the project site; or

All construction projects awarded within the County pursuant to procurement policy and the competitive bid process mandated by the California Public Contract Code.
Reporting Forms
For all projects within the unincorporated area of Ventura County meeting or exceeding the above listed thresholds, submission of reporting Forms B and C is required:
Form B: Construction and Demolition Debris Diversion Plan
Types and estimated quantities of projected waste;

Planned diversion methods; and

Planned

solid waste collectors

and facilities.
Form C: Construction and Demolition Debris Diversion Report
Submitted within 30 days of the end of the project or prior to occupancy;

Actual quantities of waste generated; and


Original weight tickets or receipts to verify solid waste material diversion and/or disposal.



Completed Forms B and C may be emailed to: PWA.IWMD-CD@ventura.org

Landfill Diversion Requirement
Ventura County Ordinance 4421 requires a minimum of 65% (by weight) diversion, through reusing, recycling or salvaging solid waste materials generated at all County unincorporated area project sites meeting or exceeding the reporting thresholds shown above.
Authorized Solid Waste Collectors

The following companies are the only solid waste collectors maintaining either residential or commercial franchise service agreements with the County of Ventura:
| | |
| --- | --- |
| American Resource Recovery, Inc. | JT's Rubbish & Recycle, LLC |
| Sea/Sue, Inc. (dba Anderson Rubbish Disposal) | JTZ, Inc. (dba Zaccaro Roll-Off) |
| E. J. Harrison & Sons, Inc. | Marborg Industries |
| G. I. Industries, Inc. (Waste Management) | Mountainside Disposal, Inc. |
| H. Cattle Company | Newbury Disposal Company |
| Hobbs & Son, Inc. | Peach Hills Soils |
| J & L Hauling & Disposal, Inc. | Santa Clara Valley Disposal Company |

For More Information
To access forms and instructions for, or information related to this program, please visit the County of Ventura's Integrated Waste Management Division located at 800 South Victoria Avenue, Ventura, CA 93009-1650 or contact:

Howard E. Hope
805/658-4322
Howard.Hope@ventura.org
Forms B and C are provided below in Adobe Portable Document Format (PDF). Form B is the Construction and Demolition Debris Waste Diversion Plan (what you intend to do with the materials). Form C is the Construction and Demolition Debris Waste Diversion Report (what you actually did with the materials). Construction and Demolition are referred to in this site as C & D.
Physical proof is required as to what happened to the project material, such as weight tickets from the recycling/disposal facility where the material was taken to or a written letter explaining how the material was reused. If material was taken to a Ventura County approved and permitted facility, the facility operators must be informed of the permitted project and weight receipts must be obtained and submitted with Form C for final "sign-off" of the project.
C & D diversion goals are driven by weight and enforced by Ventura County Ordinance Code 4421, in accordance with the California Green Building Code. To obtain maximum diversion goals, a minimum of 65% of the total weight of materials from the project must be reused, recycled, or least preferred, disposed of at a qualified Materials Recovery Facility or Landfill using County commercial or residential solid waste collectors or self-haul loads.
The "Printable" versions are intended to be printed and filled out by hand. The "Fillable" versions are intended to be filled out electronically and then printed.
Should you have any questions about completing these forms contact:

Howard E. Hope
805/658-4322
Howard.Hope@ventura.org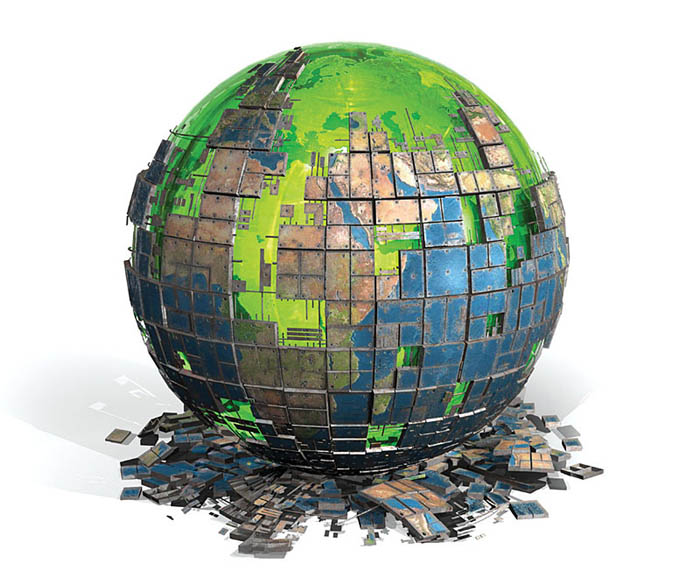 Deconstruction: It's Really Just Construction in Reverse!
"Deconstruction" is a term broadly used to refer to the systematic dismantling and removal of valuable construction materials from a demolition or remodeling project. As the value of wood, metals and other resources continues to climb along with disposal costs in many areas, deconstruction, rather than demolition, has quickly grown in popularity.
Particularly with structures that contain valuable, reusable materials, such as lumber, deconstruction is actually "construction in reverse." Crews begin the project on the roof removing shingles and work their way down to the floor.
Considering the value of recovered materials combined with avoided disposal costs, companies can more than pay for the extra time deconstruction takes. In addition, many non-profit, job-training organizations view deconstruction as a means to create much needed employment opportunities.
Deconstruction / Salvage / Reuse
If a project involves demolition or remodeling, builders are urged to salvage as much reusable material from the job as possible. One-day, advertised "demolition auctions" are one way of reducing disposal costs and ensuring that valuable resources are reused.

For a complete listing of permitted Construction and Demolition debris recycling companies, facilities, and solid waste collection companies, click here.
Paint and Other Hazardous Waste

It is legal to put latex (water-based) paint cans containing dried or solidified paint (NO pourable paint) into the regular recyclables collection bin. It is illegal to dispose of oil-based or pourable latex paint, stain, varnish, thinner, stripper, or solvent into regular trash or recyclables collection bins, stormdrains, sinks, toilets, or on the ground. Residents can properly dispose of these and other hazardous materials at local Household Hazardous Waste (HHW) collection facilities and HHW events in Ventura County.
If your business generates less than 220 pounds or 27 gallons of hazardous waste per calendar month, you qualify as a Conditionally Exempt Small Quantity Generator (CESQG) which allows you to participate at these HHW collection facilities and events. (NO explosives, ammunition, radioactive, medical or infectious waste is accepted at HHW facilities). If your business generates hazardous waste in amounts more than those listed above, contact the Ventura County Environmental Health Division at 805/654-2813 for information about proper disposal.
Residents and CESQGs may also dispose of paint and several paint related products free of charge at any one of a number of retail paint stores in Ventura County participating in the PaintCare Program. Program details and store locations can be found on the PaintCare website: http://paintcare.org
For Solid Waste Collector information contact:

Gloria Silvestri-Whitcomb
805/658-4319
Gloria.Silvestri-Whitcomb@ventura.org
For Construction & Demolition Debris Recycling information contact:

Howard E. Hope
805/658-4322
Howard.Hope@ventura.org.

For Agricultural Plastic information contact:

David Goldstein
805/658-4312
David.Goldstein@ventura.org

For Household Hazardous Waste Program information contact:

Don Sheppard
805/658-4318
Don.Sheppard@ventura.org

For General Information contact the Ventura County Integrated Waste Management Division at 805/658-4321 or your local Recycling Coordinator.